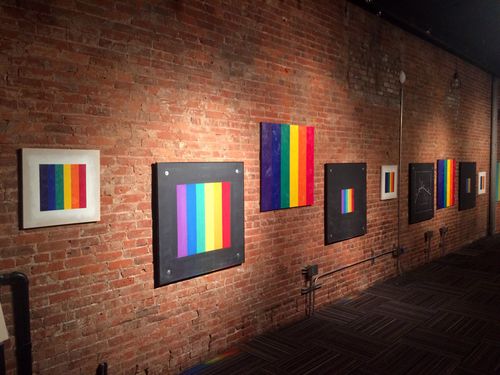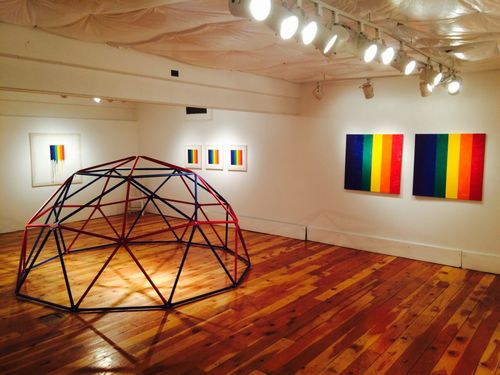 Prismaticism, 2017 
Various dimensions 
Oil on canvas; pastel on wood
Color is the visible manifestation of light's wavelength. Prismaticism, 2017 examines this foundation of visual experience and unpacks the ubiquity of constituent spectral colors imbedded in light itself. The prismatic process of dividing light into different polarizations is exemplified in the work's geometric form while its vivid palette transforms an otherwise transparent fleeting material into a state of unctuosity. 
Exhibited:
October 2019 at Terrain 12 in Spokane, Washington
November 2017 at LUV in Pullman, Washington
October 2017 at Terrain 10 in Spokane, Washington
June-July 2017 at Object Space in Spokane, Washington
March 2017 at Startup Central in Spokane, Washington
Colorwise: CD (limited edition) + new Colorwise stickers
Sticker - Colors of Our World
Impasse, 2016
Performance intervention, Parc la fontaine, Montréal, Québec
Natural dyes (blueberry, cochineal and turmeric) on stretched wool
Triptych; 38 x 17 in (96.5 x 43 cm) each 
Study for Impasse, 2016  
Natural dyes (blueberry, cochineal and turmeric), stretched wool; steel, fish net
Made in collaboration with Maryse VC.
Role Model, 2015 
Silent video installation 
Role Model captures the deceleration of form. The viewer follows a mysterious intricately crocheted organism as it slowly spins to a stop. The varying camera angles compose frames that demand as much attention of the fiber subject as its animated shadows, which create a contemplative (almost hypnotic) experience. The video installation exhibited in Marathon l'hiver KickDrum Winter Marathon at Jam Station in Montréal, Québec.