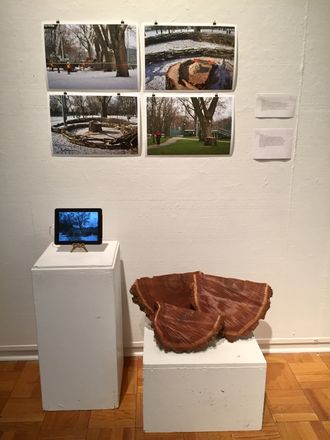 Tree Alters, 2016 is a series of performance interventions with documentation that challenge the authoritative management of non-human organisms.
Cottonwood Alter, 2016
4 inkjet prints, 1:01 stop-motion video loop, wood 
Three-part installation documenting the felling of a 150-year old cottonwood tree (Populus deltoides) and the subsequent alter assembled in Parc La Fontaine, Montréal, Québec during January and February 2016.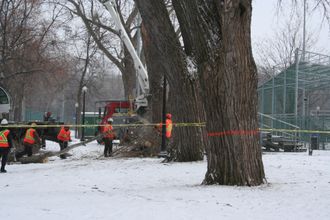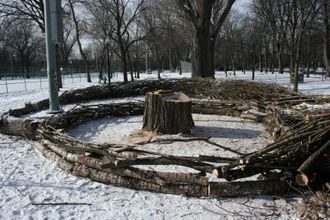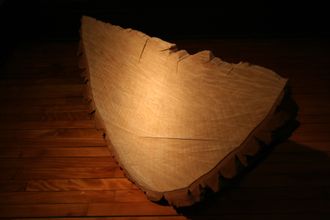 Willow Alter, 2016 
Participatory intervention and photographs, Montréal, Québec 
This was the first tree alter honoring a felled Willow tree in Parc La Fontaine. Excavating its roots, clearing debris and memorializing its stump, me and my oldest son created a space of ritual in this highly populated park intersection. The work then developed a life of its own via the passersby. Contributions included planted rootstock, from which Willow trees are capable of regrowth; a number of 'bouquets' following the original shown in the detail; as well as various relics including an abalone half shell and offerings of food.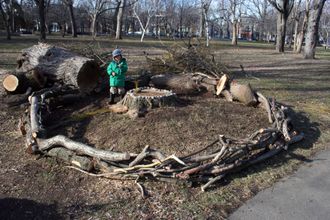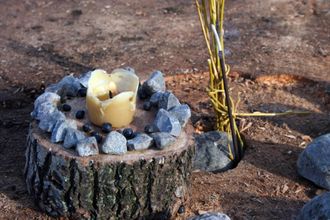 Touching Reality, 2014
4:45 silent film
Thomas Hirschhorn's video installation Touching Reality debuted at the 2012 Triennale at the Palais de Tokyo in Paris. I encountered the work (albeit briefly) two years later at the Musée d'art contemporain de Montréal as part of the 2014 Biennale de Montréal. The piece is a 4-minute 45-second video loop showing a female hand manipulating (on a tablet) anonymous Internet images of casualties of war – defined by Hirschhorn as "destroyed bodies." 
After a mere ten seconds, I was barraged with my own contemptible teenage memories of being coerced by a peer to watch Internet videos of death: a racing bicyclist nudged off a bridge, a pole-vaulter penetrated by his own pole, a woman obliterated by a speeding car – graphic, to say the least. I scorned Hirschhorn's work, which paradoxically heightened its appeal. Then I spent the following week ruminating on the act of rejection. Finally, I compromised with my injured psyche to attend his artist talk where I had hoped to sidestep the viscera and explore the political and conceptual aspects of the work. 
The public lecture was organized by the Biennale de Montréal and hosted by the Faculty of Fine Arts at Concordia University. Hirschhorn asserted eight reasons why it is important to look at destroyed bodies: "origin, redundancy, invisibility, iconism-tendency, reduction to facts, victim-syndrome, irrelevance of quality and distantiation through hyper-sensitivity." To my (in retrospect unfounded) surprise, he illustrated each reason with a plethora of photographs, screenshots, anecdotes and comparisons. Based on the ghostly complexions of those who didn't storm out of the auditorium, I think few people agreed with his defense. 
My curiosity about rejection thickened and I decided to appropriate and recontextualize Hirschhorn's means, theory, and rationale to address Touching Reality from a new perspective. Thus came my own version of Touching Reality, a 4-minute 45-second looped video installation composed identically to Hirschhorn's, but instead featuring anonymously trolled Internet images of destroyed trees.
--
 The lecture was integrated into a 300-student undergraduate art course, FFAR 250 (an acronym ironically shared by the United States military: Folding-Fin Aerial Rocket). 
* This text was published as "Touching Realities," in Nancy Webb ed. Spiffy Moves, no. 1 (Spring 2015): 8-9.